Child & Adult Care Food Program
The Child and Adult Care Food Program, CACFP, is a USDA and a West Virginia Department of Education funded program. It provides cash assistance for meals and snacks served to enrolled children. This program promotes nutritious eating habits in young children that will follow them into adult life.
The CACFP is open to everyone. EVERYONE QUALIFIES! If you provide daycare, watch a relative's child, grandchild, or even a neighbor's child, you are eligible to be reimbursed for the food you are feeding them. This program is not based on income and chances are, you are already providing the kind of meals the CACFP requires for reimbursement.
Estimated Reimbursement Rates
| | | | |
| --- | --- | --- | --- |
| # of Children | Daily | Monthly | Annually |
| 1 | $5.10 | $153.00 | $1,836.00 |
| 2 | $10.20 | $306.00 | $3,672.00 |
| 3 | $15.30 | $459.00 | $5,508.00 |
| 4 | $20.40 | $612.00 | $7,344.00 |
| 5 | $25.50 | $765.00 | $9,180.00 |
| 5 | $25.50 | $765.00 | $9,180.00 |
| 6 | $30.60 | $918.00 | $11,016.00 |
Contact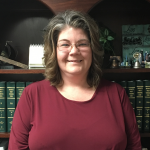 Brandi Browning
Community Services Director
304-752-6868 ext 310
brandi.browning@loganpride.com
CACFP Counties Served